It's only been a week since I borrowed a copy from my library, and I'm already getting sick of hearing myself say it.
———-
Teacher: "The kids are acting so tribal these days."
Me: "You gotta' read this book."
———-
Observer: "I can't understand how people believe this stuff."
Me: "You gotta' read this book."
———-
Friend: "I'm amazed at the rage in these petty arguments anymore."
Me: "You gotta' read this book."
———-
If you can relate to my essay from April 2018, "Why I Left Facebook," then you will most certainly relate to this book.
If — whether by choice or by ignorance — you don't have a single social media account, you should still read this book.
And if you stand at the other extreme — you're a social media guru or a social media influencer — you should definitely read this book.
Before you lose faith in humanity, read this book.
The book is called, "Ten Arguments for Deleting Your Social Media Accounts RIGHT NOW," by Jaron Lanier. It does not bash technology. It only criticizes the big BUMMER that social media has become.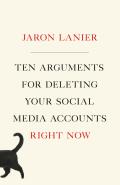 I think it would be safe to categorize Lanier as a genius, so this isn't light reading. You may not like his writing style. You may not agree with his politics. You may not grasp every point he makes. But I dare you to read this anyway.
His is an uncomfortable yet indisputable answer to the question, "Have we all gone mad?" Lanier challenges us to look at how ugly the world seems to have become from a different lens. He offers the viewpoint of someone who worked in Silicon Valley when the vision for the Internet's impact on society was purely positive.
As long as you have hope that the people around you still have the capacity to be kind, you will benefit from reading this. Fewer than 150 pages, written with humor and the benefit of personal expertise, I urge you to explore his words and see why he recommends we all DELETE OUR ACCOUNTS RIGHT NOW.
Find it at your local library or Powell's Independent Online Book Store.
Plus, once you all read it, I can stop repeating myself.